Posted by
Bradley L. Garrett
on
Saturday Jan 28, 2012
Under
Arrivals
,
Celebration
,
Departures
,
Digging
,
Drains
,
Freedom
,
Infiltration
,
Infrastructure
,
Recreational Trespass
,
Skyscapers
,
Underground Parties
"Revolutionary movements to not spread by contamination but by resonance." – The Invisible Committee
There is one primary reason why the London Consolidation Crew has been so successful. Group dynamics. When the urban exploration scene in London started heating up in the past few years, we went through some growing pains as a crew: people getting left behind, bad publicity, jealousy, bad luck that led to busts. But we came out the other side and the result is that we are now more efficient and cohesive than ever. The stuff we're doing now looks different than our 2010/2011 tube onslaught, but it's no less ambitious.
We get messages constantly from people wanting to get involved – I guess it's obvious how much fun we're having! We appreciate that – please continue commenting and emailing, it's good encouragement to keep us out there climbing skyscrapers in subzero temperatures, sinking anchors into walls at 4am and hiding from Metro drivers in Paris while we run the tracks. But we don't do these things simply to entertain you sitting in front of your computer screen at home. We want to inspire you to build your own group of explorers and start cracking the place you reside. You don't need us, you just need a couple of solid mates and a bit of overflowing angst or desire. Easy.
Eventually you may want to hit some bigger targets. In regards to group dynamics of a growing crew, here's a lesson we've learned. Urban exploration is often perceived as a relatively solitary activity, something that we accomplish on the back of research, scoping, surveillance and execution in small groups. But in reality, the urban exploration crews that get the most high profile locations done (Holy Grails) are the ones that operate not on an ethic of one-upmanship but as a group – the Cave Clan learned this a long time ago and QX, Dsankt and Sergeant Marshall proved it again when they demolished the Paris Métro a few years back as a loose  infiltration collective. And while it's true that the UK "scene" is, as Siologen says "all fucked up and weirdly political", more fragmented than the current US Republican Party, our London crew is one of the tightest knit groups out there right now. Save one.
_______________________
"Many such subterranean places are said to be found in Minnesota."
          – Fredrika Bremer
I woke up in a basement at Shotgun Mario's house surrounded by a massive pile of drippy waders, clutching a glass that was recently full of John and Becca's heavenly homebrew ale on tap in the next room. I scratched my head and a host of sand particles dislodged themselves and sprinkled into my glass, salting my sleeping bag. My eyes hurt. Witek was drooling on a pillow next to me dreaming of train engines and Marc Explo, as usual, was naked in his sleeping bag snoring like a baby. I stumble upstairs and Mario is on the phone, editing maps and listening to heaving dubstep simultaneously. He looks eager and I'm pretty sure, after being here for 24 hours or so, he doesn't sleep at all. We all slowly made our way over to DarlinClem's and her pad was full of even more explorers, including Moses Gates, whom I had wanted to meet for years. It was all happening – we had finally made it to Minneapolis-St. Paul (MSP). It was a stupendous welcome party at DarlinClem's the night before and now it was time to get busy – the crew had assured us they were going to put us to work before we arrived and Marc wanted to dig.
The reason MSP is our favorite sister crew, and arguably the world's most famous UE collective, is not just because they party in sewers wearing spandex and swigging champagne. Nor is it just because they stage mass boat infiltrations in drains. It also isn't just because they throw awesome illegal parties. It's because they're a huge, solid group of exceptional explorers that have accomplished an unimaginable amount in their city and love it as much as we love London. We have a lesson to learn from MSP where rinsing the city of locations didn't stop them – it simply caused them to start thinking even more critically about what was possible, spinning off iterations of playful urban interaction through a relentless desire for more. They work through doldrums and always re-emerge into a new Golden Age. Just as we are doing now. That, I argue, is no coincidence.
In short, the crew in MSP constantly rework the city through desire – a rather fluid proposition; desire is radically intransitive, not a thing in itself but that which enables us to desire. Both our crews are consumers and producers of that serotonin seepage, in the same way we might manufacture fear to increase adrenaline levels while exploring, in the same way I have helped manufacture the LCC, in the same way we take the bait to be the only one ever to drive a Mail Rail train. Urban exploration, while it may be viewed externally as a transgressive tactic, working to undermine closed systems, is also full of moments of comprehensive engagement with social life, triggering neural flashes where the husk of alienation is shed to reveal fruits of collective activity. The level of organisation, time and effort invested and sheer brilliance of group efforts and accomplishment (the fruit) in MSP is unmatched anywhere else in the world. Their consistent discoveries, especially in the fertile, porous, excavatable subterranean sandstone environment, reveal them to be the global rockstars of our little pastime.
Rewind to a revelation Winch came to last year when he told a herd of us in the Paris Sewers, "there are only two types of barriers we face – the physical, which we have little problem with now, and the social. Social barriers can be overcome too, we just have to hone our skill." The kids in MSP are pros at this. In Chicago, when we set our sights on doing a live infiltration of the Legacy Tower, Shotgun Mario and Tony walked in with our group of 8 and pulled aside security with an errant question while we followed a resident to the lifts and made our way to the roof. Mario and Tony sacrificed their personal enjoyment for the benefit of the group. No one has gotten up there since. In our most successful infiltrations of the London Underground, we often had somebody "on top" to keep an eye our our access point, ferry ropes and distract civilians, both LutEx and Dicky have played that important part on major missions. This is an essential role in any successful infiltration crew.
As Marc Explo suggested to me, place hacking is perfectly complimented by mind-hacking techniques by people such as Derren Brown (cheers to Katie Draper for introducing us to that sociopath). While we have subverted almost every type of physical barrier possible, we have largely failed to attempt to alter people's perceptions of situations (the psychology hack). Which in many cases is easier, such as convincing hotel staff that you have lost your room key and need to get your stuff from the pool rather than sleeping on the roof and abseiling to the pool at 2am. So here was our second lesson learned from MSP – walk the shit and talk it, use all the tools at your disposal.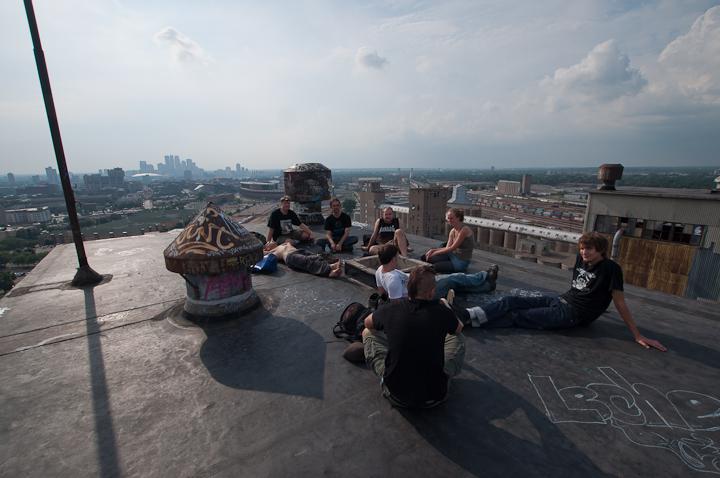 Time for me to assert my favorite trope! Urban exploration is a place hack. Both virtual hacking and place hacking are elective procedures of participation in otherwise closed objects (proprietary cyberspace or off-limits architecture). In the same way hackers wouldn't use a DDoS attack to achieve every goal, we also have a range of tactics, both distal (visual representations, smoke screening, misinformation campaigns) and proximal (sneaking, social engineering, brute force) at our disposal to hack our way into and rewrite places so that they feed into our manufactured identities (undercutting imposed identities). The explorer, by stratigically applying a fuller range of tactics, multiplies stories of places to create myths, dreams and visions of a present moment of possibility available to those harbouring desires to make them manifest. Once those stories are rewritten, they can then be restacked to add weight, contributing toward the collective breaking point. If we consider hacking as a constant arms race between those with the knowledge and power to erect barriers and those with the equal power, knowledge and especially desire, to disarm them, it is a logical step to begin considering ways beyond sneakiness and brute force to disarm closed architecture. Take for instance the following photos. There is only one way to get them and it had nothing to do with being sneaking past security or brutalising a keycode panel. It was a Trojan horse attack, plain and simple.
Just as the hacker ethic cannot be simplistically reified, categorised or bounded, neither can explorers themselves. While I may point to an overarching impetus behind exploration as I see it, and bound explorers according to primary friendship groups or geographic location for analytical convenience, it is problematic to attempt to define a coordinated explorer ethos; individuals simply follow their desires, do their own edgework. But in a (loosely) coordinated group, individual desires can be channeled into the collective. Exemplar are the infamous Futtslutts Thelma and Towanda of MSP. These two don't explore by anybody's rules. They are, by and far, two of the most accomplished and daring explorers anywhere. Their courage incited Marc Explo and I to charge headlong into a tiny stoop filled with raw, black sewage like molasses, packed with cobwebs and little white subterranean spiders, fending them off with a stick and a bottle of Uncle Andre until the fumes almost took us down for good. It was a hot moment. But also, through their radically impractical assault on that poo den, another tunnel was crossed off the list. Individual desire fed into group accomplishment.
With larger groups also comes increasing specialisation. Where the Futtlslutts may form a frontline assault, Mario is behind the scenes drawing up plans, Tony is in a tie opening places easier than a ninja, Slim Jim is mapping every inch of the process with exacting detail and Clem is the glue holding it all together. It was inspiring watching the team go to work on a problem and it's something we brought back with us from MSP. I think it has helped the LCC gel even more, taking us again back to my initial observations. Urban exploration is a team sport, straight up. If your team sucks, you're not going to nab a Grail. And seriously folks, drop the politics, when you find someone out there in the world operating alone who brings something exceptional to the team, they deserve your respect and should be brought into the fold.
Our process in London of increasingly trying to work social angles, as a group, was partially inspired by what we saw in MSP at the end of our summer of mayhem. Exploration is about doing exceptional things that challenge and provoke us day after day with a community of close friends; it's not just the places or the process of exploration that makes this worth doing – it's the friendships behind it. So in terms of the emails we keep getting, thanks again for those but we'd rather you make move from talking about what could or should be done, pitching possibilities and asking for help pulling your group together and creating those possibilities. We, like the crew in MSP, undertook the research to find out what had been lost to time and then went out and found it in the world – real work that took place with our hands, bodies and minds as a community we built together. As "Gary" once said to me "if you're in, you're in, you can't fake this." And for diving in head first we earned an invite to visit a crew older than us that we respected immensely. So what now? Well friends, a global community reformation is taking place in front of your eyes. So if you're ready to give up faking it and start making it, join us.
Thank you to everyone in MSP who let us stay on your coaches and floors, fed us fine food and ales and for showing us the wonders of your city – it was spectacular! With the 2012 International Drain Meet coming up soon, I look forward to seeing many of you again.
By the way, you were always our favorite, just don't tell the others.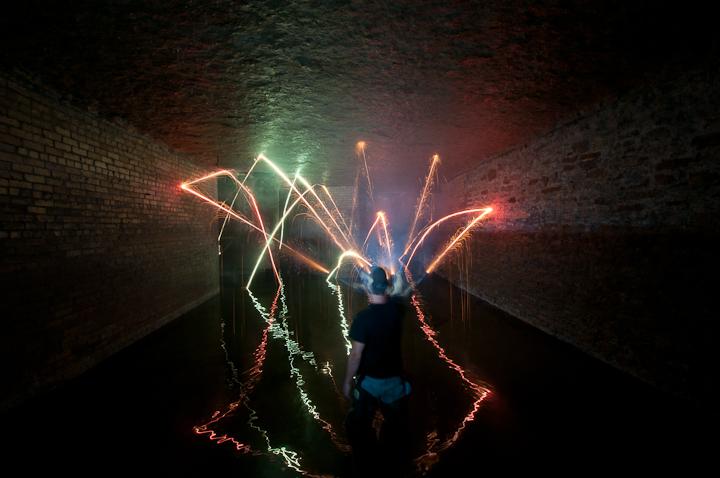 _____________
This seems a fine time to mention that the London Consolidation Crew, in collaboration with the MSP Hard Hitters, are going to drop a massive media bomb tomorrow. Keep an eye Silent UK and Place Hacking and wait to feel the shrapnel spray into your retina.
Tags : Becca, Caves, Darlinclem, digging, Drainboating, drains, Freak, Futtslutt, Infilapolis, John, Marc Explo, Minneapolis–Saint Paul, Moses Gates, MSP, Otter, Sandstone, Shotgun Mario, SlimJim, Spandex, the Lab, Thelma, Tony, Towanda, Triple Helix, Twin Cities, Witek | 8 comments