I don't like nostalgia unless it's mine.
-Lou Reed
At the end of 2009, I found myself in Sweden, reflecting on a year of impossible explorations, culminating in our massive 7-day urban camping adventure across 4 European countries and dozens of derelict spaces all the way to East Germany. I never would have guessed that at the end of 2010 I would find myself sitting in Las Vegas reflecting on a year even more incredible than the last.
The numbers are in. During 2010 we explored 110 locations in 9 countries, ranging from derelict industrial sites to impossible heights; from vital infrastructure to dead shopping malls. Over the course of the year, as part of my PhD research, I have taken 11,000 photographs (yes, you read that right), shot 20 hours of video footage, published 35,000 words about our adventures in academic publications (many still in press) and wrote over 40,000 words on this blog.
That all said, Place Hacking wouldn't be anything without the places themselves, so without further ado, I present my top 20 explorations of 2010.
______________
#20 – The EDF Tunnels, Paris, France
While the tunnels themselves are not that remarkable, entering through a manhole in the streets of central Paris most certainly is. On this occasion, we opened the heavy cover with a carabiner and piece of rope. Once inside, we couldn't close it and yelled at a passer-by to shove the lid shut while we ran off into the tunnel. It clearly made his night.
More interesting though are the ways in which, in Paris, subterranean spaces connect to each other. At times in the city of lights it seems you can move more freely below ground than above. We spent an entire night underground after entering these utility tunnels, connecting the catacombs, quarries and a massive abandoned electricity substation, ending up on a rooftop in some strange spatial twist that I will never understand.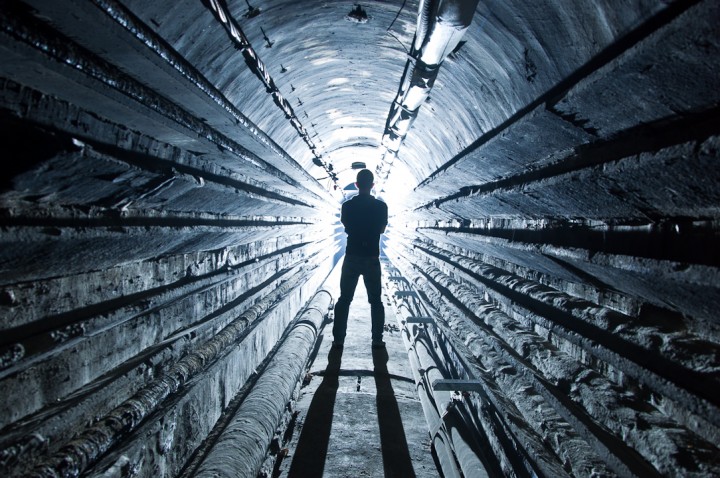 #19 – The Paris Catacombs (Carrières de Paris)
While we are on the topic of subterranean Paris, we made a number of trips into the catacombs this year. In 2009 we were detained by French police in a riot van after popping out of a manhole cover at 3am, which was fun, but 2010 was the year that I got to know about 4km of the rooms and galleries by memory and can now successfully navigate a majority of the system with pretty high success using maps.
At some point during our Kinky Paris trip, the following things may or may not have happened:
1. We stayed underground for 3 days living only by artificial light.
2. I feel asleep in a pile of human bones.
3. Marc Explo convinced us all we were  ghosts haunting the place after a debate between him and Silent Motion while they propped me up like a corpse on the wall, drunk on port.
4. We went to two massive underground parties (one in the underground cinema built by La Mexicaine de la Perforation).
5. We sent people out of the exit first to get arrested so we could run away while they were getting cuffed. Marc Explo also may or may not have also left people for dead in there.
#18 – New Court, London, United Kingdom
We found New Court while we were looking for something else entirely. Waking in the City of London, we saw a giant hole in a brick wall at ground level. We went through it, while a drunk man in a suit pointed and yelled "hey!" while falling against a wall, and then found this crane. Seriously, it was one of the best spontaneous finds of all time and remains one of my favourite explorations. This photo, with Tower Bridge beaming behind me, later got me some love from Web Urbanist which really kicked off motivation to get more cool stuff done this year.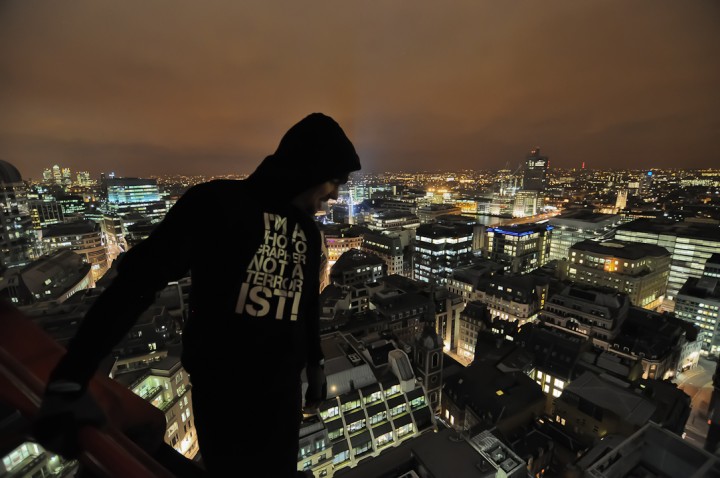 #17 – Métro workshop, Paris, France
This year has also been a great year for exploration of the Paris Métro system. When Marc Explo told me we were going to explore some Métro on my last trip there, this was not what I was expecting. We jumped off a train and then tiptoed quietly down the tunnel, trying not to rattle the tiles on the narrow walkway. When we turned the corner and I saw this parked-up train with the lights on, my heart almost stopped.
The workshop made all sorts of strange noises as we slid underneath the train and up onto the platform, tugging on the doors in a futile attempt to get in. I kept having the distinct feeling someone was in there with us. It didn't help that it was in the middle of the day. Marc Explo is mental.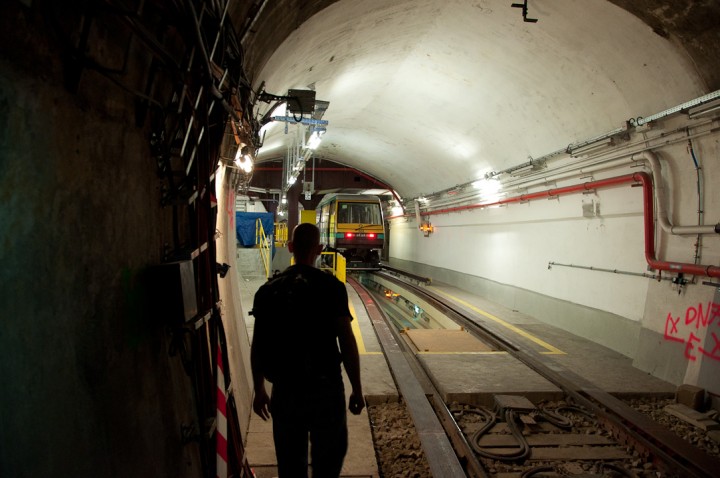 #16 – Arterial GLC Cable Tunnel, London, United Kingdom
2010 was also the year we largely moved into being primarily an infiltration crew and while we wiggled into no less than 6 distinct cable runs housing London's infrastructural networks, this one in particular is a real gem. It runs under a primary party artery and listening to the people running wild in the streets through the manhole covers, high-heels clacking down the corridors and fights breaking out above us in front of clubs, one can't help but laugh. My favourite sound though is cars rolling over the lids down the street above with that distinctive negative gradual thumping reverberation. The cable runs are exciting for about 10 minutes visually, but they are sonic wonders.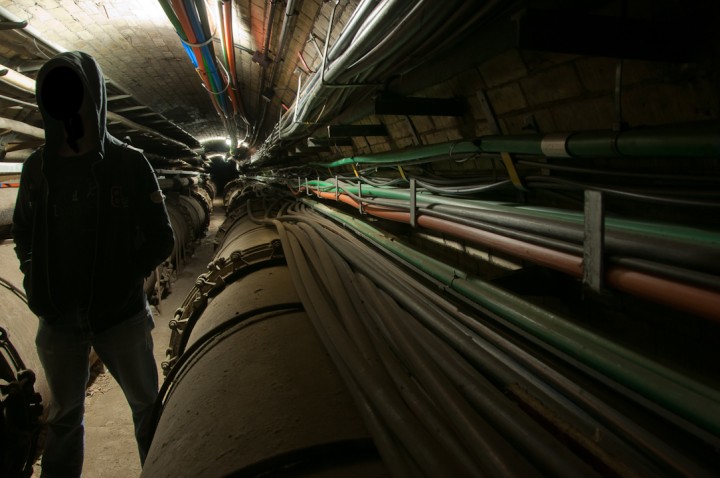 #15 – Urban Camping, Everywhere
Okay this one is a bit of a cop-out since it's not a specific location but we spent almost an entire month of this year sleeping in weird, random and derelict places. While the most harrowing was an active crack den in Luxemburg which we barricaded with old furniture and barbed wire, this random hill at an Autobahn Rasthof in East Germany was the most comfortable urban camping spot we have ever found.
Not only that, the looks on tourist's faces when we woke up and dragged our sleeping kit back to the car and drove off  to the next ruin was priceless. Pretty sure a little girl in a car seat cried when we came at her in the car park, "Gary" dragging a sadly deflated stolen air mattress connected to a pump we found in a derelict pool with eyes full of wild hangover.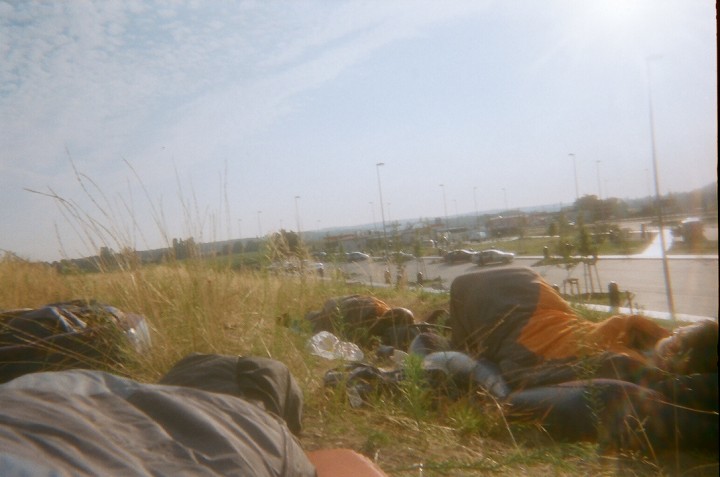 #14 – The Nuclear Racetrack, Southeastern England, United Kingdom
There are plenty of things you could be doing on a weekend evening. One option would be sneaking around in a quarry until you find access to an abandoned nuclear bunker where you source electric go-karts with the keys still in them and drive them around at high speeds. Seriously. We spent 12 hours in this subterranean playground and were having a grand time until I put photos of it on the interwebs and got a lifetime ban from the largest urban exploration forum in the United Kingdom. C'est la vie.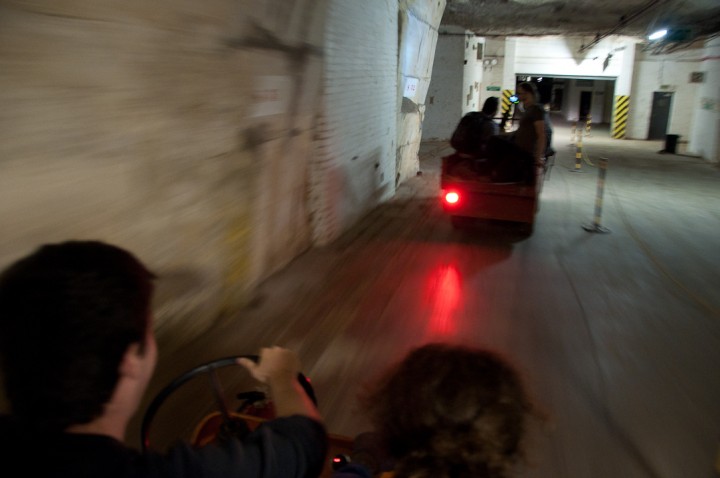 #13 – Rubix, Brixton, London, United Kingdom
2010 was also the year we started seriously exploring London's amazing sewer system built by the legendary Joseph Bazalgette, following many years of epic exploration by drainers like Otter and Jon Doe. While we enjoyed exploring the River Fleet, The Tyburn and The Westborne sewers, I was especially fond of the Rubix junction in Brixton, in London's South West Storm Drain system, not in the least because it is walking distance from my flat in Clapham. There is something about walking around in your own sewer that's very satisfying.
Silent Motion shot this great footage of our exploration there. My excitement in the video is… um… evident.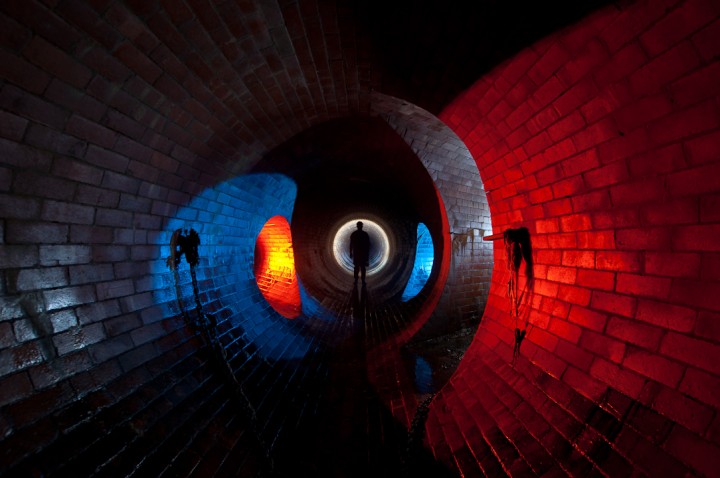 #12 – Battersea Power Station, Wandsworth, London, United Kingdom
While Battersea Power Station has been a site of serial trespass for years, this year's epic 7-person infiltration in the middle of an event setup on bonfire night past hordes of workers deserves special recognition. Watching the Battersea Park fireworks display from one of the chimneys was incredibly surreal, especially when Silent Motion told me "close your eyes and you can feel the chimneys collapsing a little every time a burst explodes."
By the way, whoever tried to sneak in after us and got chased out – that was hilarious to watch from the chimneys, thanks!
#11 – Vogelsang Soviet Military Base, Berlin, Germany
This year marked our second visit to Vogelsang after a 10% completion in 2009. This Soviet base was built outside of Berlin in complete secrecy from the local population and housed 15,000 Soviet troops at it's height. Declassified documents released in the 1990s revealed that this base had nuclear missiles stored there in 1958 aimed at London, Paris, and Brussells. We obviously took nude photos on the launch pads.
When we showed up at the base this year, it felt like coming home as we set up camp in the main building after hours driving and walking down logging roads on the massive necessary trek to get to it. Strangely, upon arrival we almost immediately ran into a party of geocachers and had an awkward stand-off until we realized they were as nerdy as us.
Other than that unlikely encounter, we had the base to ourselves and used the opportunity to throw a fat 4-man party in the admin building with a raging bonfire and spent all night taking long exposure night shots, inspired by Troy Paiva's book Night Vision, which we were reading during the drive.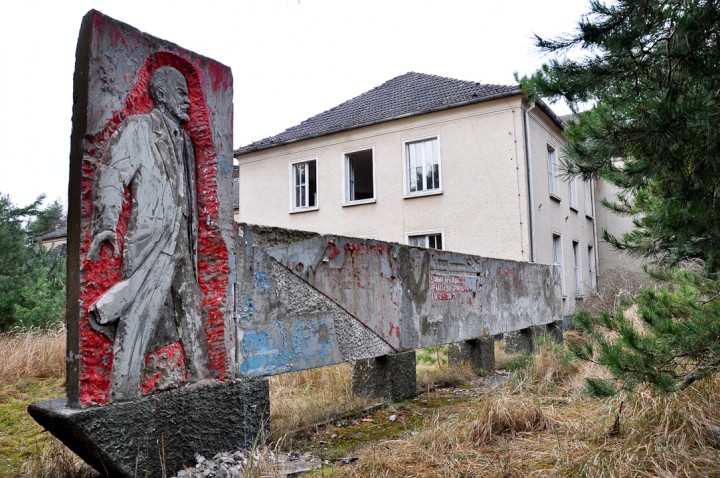 #10 – NATO Headquarters Bunker, a Paris Suburb, France
Sometime in the spring, we rolled into a quiet village in this Paris suburb at 2am and killed the headlights while we looked for a place to park the car where it wouldn't be noticed. It was quiet enough to hear the gravel crunch under our feet as we ran up to a blast door and slipped down a dusty ventilation shaft. Inside – a massive quarry system converted into a NATO headquarters bunker full of decommissioned military equipment brought in by strange enthusiasts. The only thing more fun than taking photographs in these rigs? Playing destruction derby in them. Just kidding. Sort of.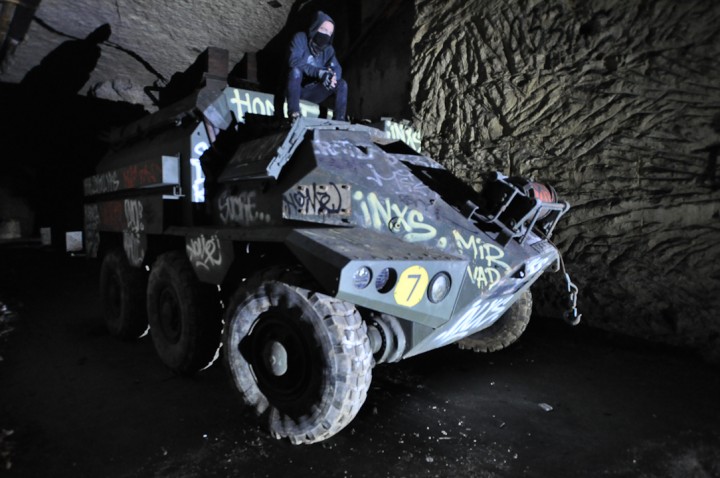 #9 – Palais de Justice, Brussels, Belgium
The Brussels Palais de Justice was the largest building in the world when it was finished in 1883 and opened by King Leopold II. It's rumoured that it's construction was such an undertaking that the architect, Joseph Poelaert, died from exhaustion. So when we heard it was covered in scaffolding, well, we knew we were going to climb it. 2/3 of the way up the scaff, Statler quit and by the time I pulled myself onto the dome, I thought I was going to die.
I was so shattered, I couldn't even enjoy it; we just left a jar of Vegemite on top and climbed down. In hindsight, it probably wasn't the best way to begin a 2-week roadtrip given that we were all wrecked by 6am on the second day but hey, for these views…
#8 – March Joint Air Reserve Base, Moreno Valley, California
I came back to California for a conference in March and I got a call from my brother Pip – "so you like exploring stuff these days huh? I've got something we can explore." Turns out, Pip wasn't joking. After sneaking onto March Air Force base in Moreno Valley, California, a broken window gave us access to a 7-story building full of disused medical equipment, then being utilized as an urban warfare training ground for soldiers going to Iraq and Afghanistan. Utterly terrifying and totally fun, I am proud that a building from my home town has made it onto the top ten. Hopefully since the economy has all but collapsed, we will see more of this sort of thing. Just kidding.
On the way out, the sheriff was waiting outside. We were apparently a little reckless with our headtorches. Just as he hit us with his cruiser spotlight, four of us hid behind the only four pillars in sight. When he drove off to the backside of the building, we ran like hell. Seeing Pip go head-first into the grass just before he dove through the window of my truck as I sped off was priceless. Big props to the military police for not gunning us down with their assault rifles.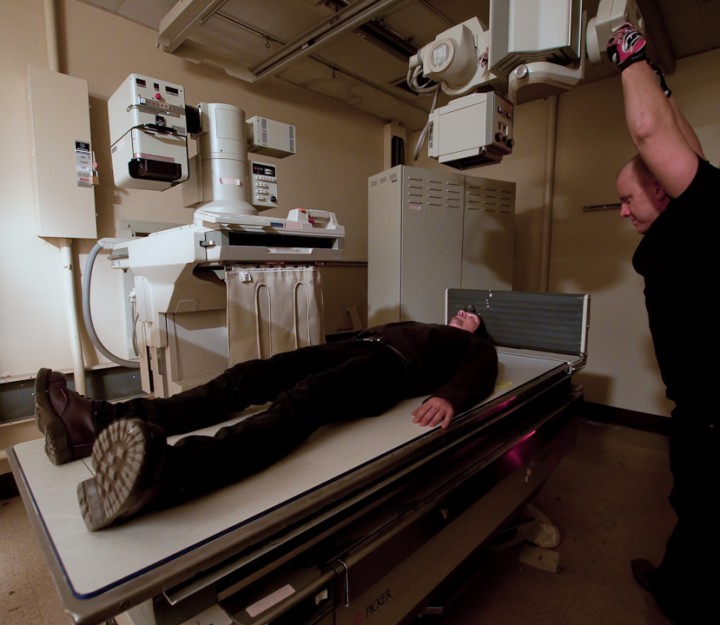 #7 – Saint Sulpice, Paris, France
We have climbed so many churches and cathedrals this year that I think we can nominate cathedral climbing as a new Olympic sport. St-Sulpice was the gem of the year. Marc Explo distracted a security guard with inane questions just before we shimmied up the hoarding to the scaffolding. When we finally got to the top, the Eiffel Tower glowing in the distance, we found a group of 5 university students in really nice clothes having a picnic on the roof. Only in Paris.
Later, this crusty old hippie came up the scaffolding with his 6-year-old daughter and fired up a spliff as he introduced himself. Like I said, only in Paris.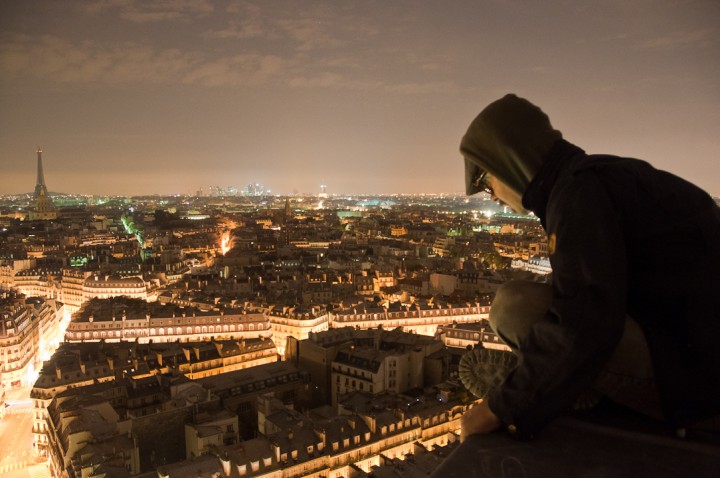 #6 – The Sanitary(um) Hospital, London, United Kingdom
Hands down the most pristine derelict hospital I have ever been to. The hospital is also in the most unlikely location for a giant derelict building and it took Patch and Neb weeks of research and climbing around the place using benches and ropes to finally find an open window. Shouts to Patch for the dedicated research and legwork on this one – the payoff was grand!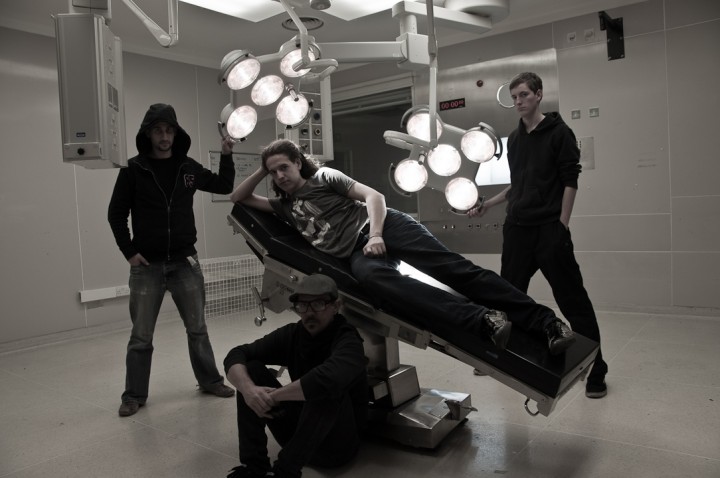 #5 – Millennium Mills, East London, United Kingdom
I had been putting off Millennium Mills for years. I think a part of me wanted to save London's last epic ruin for when I needed it most. When "Gary" called me and said "meet me on the Excel Centre bridge", I knew the time had come. Mills exceeded all expectations, it's clearly one of the most beautiful industrial ruins on planet earth today. As such, it's been good to see a renewed interest from London explorers in the site lately. Might as well since the security guard is utterly useless!
Like all beautiful things, London authorities plan on fucking it up by turning it into a dreadful 5000-home development with an aquarium.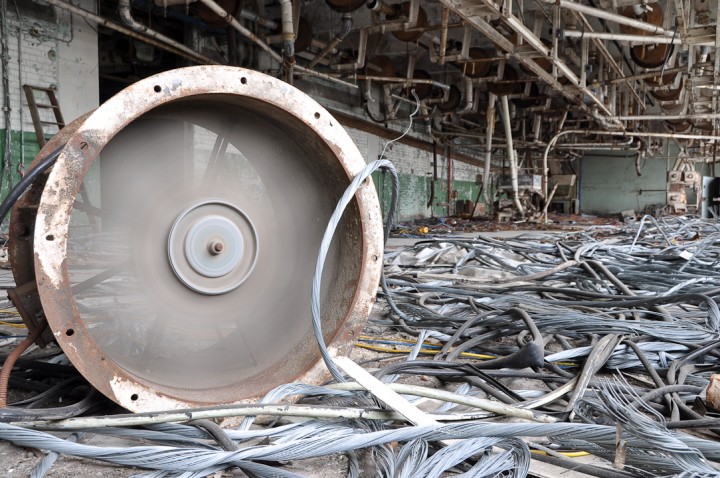 #4 – Croix Rouge Abandoned Métro Station, Paris, France
Croix rouge was as terrifying to get to as it is beautiful. Unbeknownst to me at the time I hit the shutter, this photographs would tour London as a 20×30″ print and end up on the brochure for the 2010 Royal Holloway, University of London Vertical Geographies Conference.
As usual, the best thing about Paris is when you crawl out of a metro tunnel onto a platform cackling, dressed in black and covered in tunnel dust and no one cares.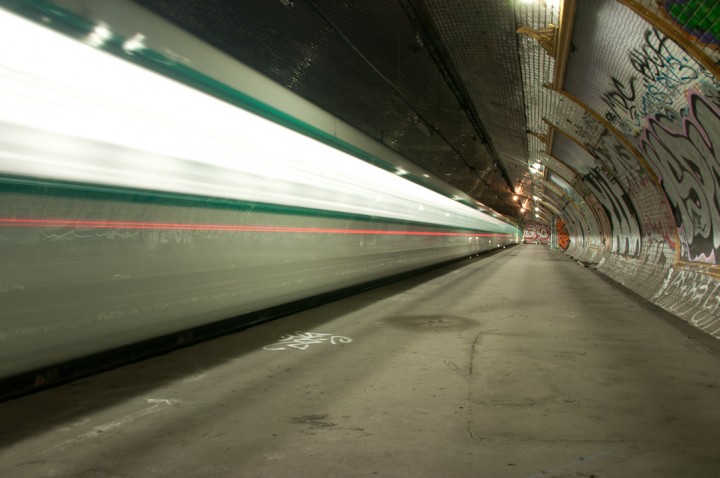 #3 – Lucky Charms, Stockwell, London
Otter, Yaz and I jumped into a sewer at Stockwell station and accidentally went upstream. I don't know what we were doing but Yaz then says, "why don't we just see what's around the corner." Ten minutes later, we were in one of the most beautiful drain junctions I have ever seen. Otter, in his style, spent 30 minutes setting up lights for this photo while Yaz and I danced in our waders to drum and bass.
I am incredibly humbled that Otter and Yaz invited me to name this drain. I christened thee "Lucky Charms", the most wonderful drain we didn't mean to find.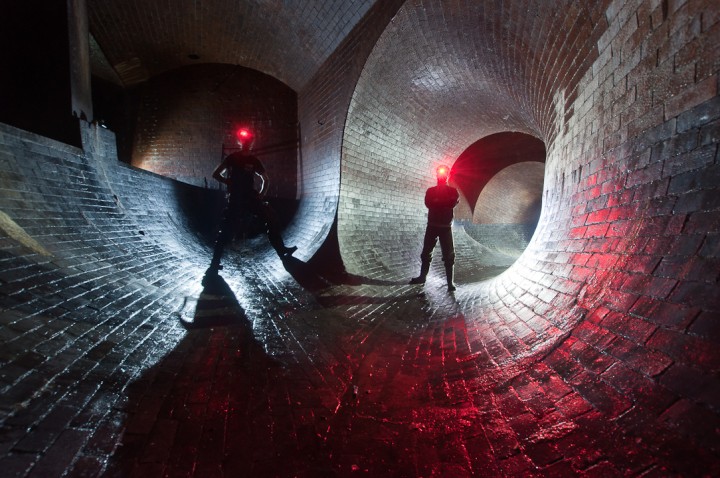 #2 – Pre-metro, Antwerp, Belgium
In the 1970s, Antwerp had a big plan to build 15 km of Metro tunnels with 22 stations. Then they remembered they were in Belgium and made sure not to complete it. Today, only 11 stations have been built and it's never been used. But that is not the fun part.
The fun part is that the only way in to this beautiful beast of a system is via a 30 meter air vent with a straight drop. At the tail end of our road trip to Poland, we tied off the ropes and dropped into this gorgeous piece of almost-architecture while the rain pummelled us from up high.
Flipping the light switch at the bottom and watching the lights spark down 11 abandoned (under construction?) stations was one of the greatest things I have ever witnessed. Not being able to ascend out of the system due to exhaustion, torrential rain, and fear – even more awesome!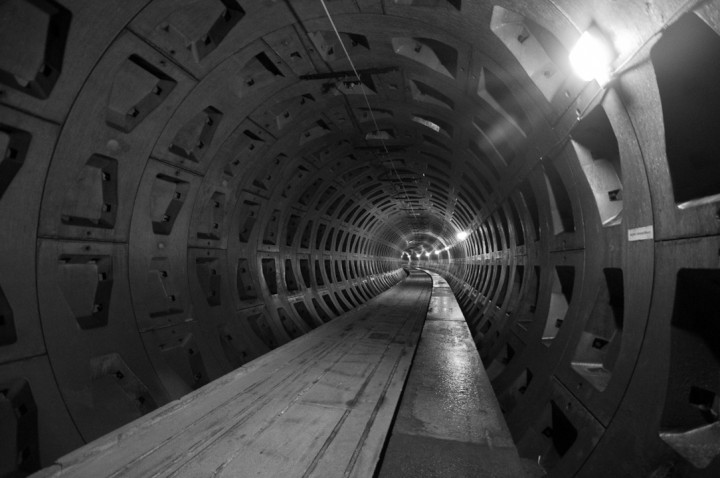 #1 – King's Reach Tower, Southbank of the Thames, London
And finally, maybe surprisingly, at number one on my list this year is my new London favourite. The first time I stepped onto the roof of King's Reach Tower, 111 metres over the Thames, I was floored by how spectacular the view was. It also has (had?) a working lift which seriously made this a night out that almost didn't feel like exploring at all, just an evening with drinks and a beautiful view. When Otter released his Gigapixel panorama of London taken from here, I knew we had something incredible on our hands. It only got better when we threw an epic party on the 29th floor which brought explorers from 5 countries together for a fantastic gathering that ended in a drunken congratulatory speech from Siologen.
And so with that, I officially close the Place Hacking 2010 year of exploration. Hope to see you all out there next year!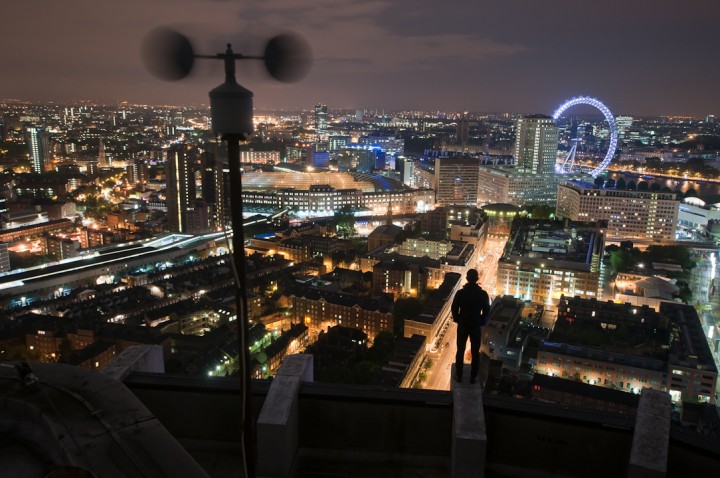 ________________
Thanks to Statler, "Gary", Otter, Patch, Yaz, Neb, Claire-Elise, Gigi, LutEx, Hydra, Witek, Brickman, Cogito, Joel and Jesse Childers, Siologen, Snappel, User Scott, El Gringo, Pip and everyone else who I have been exploring with this year.
A special thanks to Winch for organizing all of our legendary ProHobo Road trips. I don't know how you do it mate, but don't stop. Marc Explo deserves the utmost respect for not only for his skills as an explorer but his in-action philosophising that always send me back to the drawing board. Silent Motion is the best place hacker the world has yet seen, you are an inspiration brother.
Further, I have had some great conversations and received encouragement on my PhD research from Dsankt, Urbanity, Simon Cornwell, Trevor Paglen, Adam Fish and the crew at Savage Minds, Alan Rapp, Julia Solis, Shane Perez and Steve Duncan. Cheers all. Thank you finally to Tim Cresswell for your unwavering support (and blind eye) during late night frantic calls and early morning coffee chugging sessions at the London Review Bookshop.
On a final note, 2011 already promises more than 2010 delivered so watch this space.
Oh, one more thing.
Explore Everything
Tags : Adam Fish, Alan Rapp, Antwerp, Arterial GLC Cable Tunnel, Battersea Power Station, Berlin, BPS, Brickman, Brixton, Bunker, Carrières de Paris, city of london, Claire-elise, Clapham, Cogito, Croix Rouge, Dsankt, Gary, Gigi, Havel, Hydra, Jon Doe, Joseph Bazalgette, Julia Solis, King's Reach Tower, KRT, Lucky Charms Sewer Junction, LutEx, Marc Explo, March Joint Air Reserve Base, MC Nebula, Métro workshop, Millennium Mills, NATO Storage Bunker, New Court, Nuclear, Otter, Palais de Justice, Patch, Pip, Pre-metro, Shane Perez, Silent Motion, Simon Cornwell, Siologen, St-Sulpice, St-Sulpice Cathedral, Steve Duncan, The EDF Tunnels, The Nuclear Racetrack, The Paris Catacombs, The Sanitary(um), The Southwest Storm Relief System, Tim Cresswell, Trevor Paglen, Urban Camping, Vogelsang, Winch, Witek, Yaz | 10 comments