Posted by
Bradley L. Garrett
on
Monday Jun 27, 2011
Under
Academia
,
Breaking and Entering
,
Civil Rights
,
Cultural Geography
,
Departures
,
Geography
,
Infiltration
,
Infrastructure
,
Transport for London
,
Urban Exploration
Knowing is not enough; we must apply. Willing is not enough; we must do.
– Goethe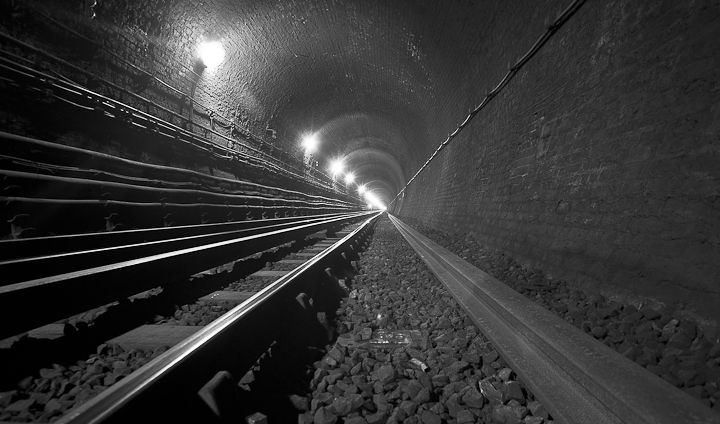 Dear British Transport Police,
I hear that in a recent police interview, you produced 91 pages of Place Hacking you had apparently printed out from a high quality laserjet. Firstly, let me just say that I am delighted you used so much toner working toward a better understanding of how urban exploration functions as a critical spatial practice to unveil hidden parts of the city and activate little moments of urban orgasmic wonder in an age rendered increasingly banal by forces of securitisation (no offence intended). We always suspected that only you guys, and maybe some of the TFL track workers, could ever understand the depths of our tube and train fetish. Do you like to stand in tunnels and record clips like this too?
I knew it! So listen guys, just between fellow train pornographers, you arrested some of us on Easter. It was a clean bust, we got a little silly there for a few weeks running around on live lines and everything and you were pretty cool about it. But the thing is, you forced your way into my flat while I wasn't there and you've been holding computers, cameras and hard drives in your offices under some sort of vague "terrorism" authority for 3 months now. I never gave you permission to come in my house and the whole thing, if I'm being frank with you, is beginning to reek of a civil rights violation. Now I'm not trying to be cheeky here but we all know that you understood within 10 minutes of talking to us that we're just train geeks with expensive cameras. I mean Howard Stern even said we're like Dungeons and Dragons ubernerds that took our adventures into real life. Which is pretty accurate.
So given all the cuts going through a wide swath of UK society at the moment, you will understand if I suggest that the funds diverted for this "investigation" are being rather ill-invested. You see, in contrast to, let's say, Lambrini chav chicks screaming on trains which apparently happens every day, we cause far less trouble for BTP. I mean 98% of the time you didn't even know we were in there. We were also very forthcoming when you caught us, we played fair. Tell me, have you learned anything new looking through our hard drives full of porn and pictures of trains and cranes? I didn't think so. And in terms of the acts of "terror" you apparently think we are involved with, well the only terror we inspire is the kind that makes you think about your life and how you've wasted it working at a boring office job when you could have been running around in TFL tunnels with that warm, brakedust-laced air swishing around you, getting all in your teeth and jumping over the 3rd rail running from the worktrains at 3am, diving into the Japanese knotweed they never clear up. It's not any more terrorful than, let's say yarn bombing or throwing magnetic lights on buildings or skateboarding. Though I suppose you might consider those activities big "social scourges" as well eh?
Look, I am just going to lay it out here for you BTP. We make the city more fun. We do this because we love it, not because we want to make your life difficult. Honestly, it would be better for all parties involved if you just ignored it. We aren't doing anyone harm. In fact, it could be argued that we actually make the city safer by exposing flaws in your transportation network that a bunch of kids with bulky tripods and backpacks can sneak into – no telling what someone who was really motivated could do. Tell you what, we promise that if we ever see a "terrorist" down there we'll brain them with a tripod okay? In the end, we are, I am sure you realise at this point, basically model citizens: active, aware, careful, well-dressed and *ahem* well-educated – not to mention the fact we've been running citizen patrols in the tunnels we pay to maintain (and pay you to police) for 3 years now without ever asking for a dime!
And so, in the spirit of reconciliation, taking into account all I have outlined above (as well as my many publications on the topic you also undoubtedly printed off on that crisp laserjet and enjoyed with a nice scotch), I have prepared an invoice for the work we have done exposing your network's security flaws. I will CC another copy to your office but would appreciate prompt payment on this, given you have everything we own and we need to buy some new ropes, harnesses and bolt croppers.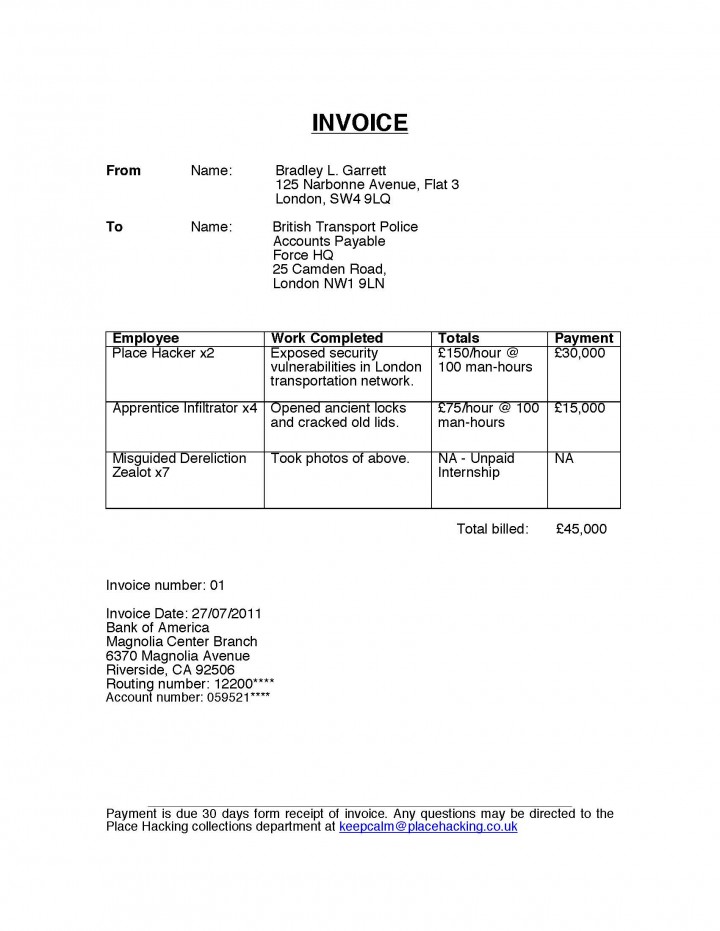 Anyway, I hope you guys are having a good summer. Mine is pretty boring, just writing about all the disused Tube stations we explored and stuff. Cool thing is though, at the end of it I get a PhD. Now that, my friends, is public money well invested! Please let me know if you have any questions.
Sincerely,
The Goblinmerchant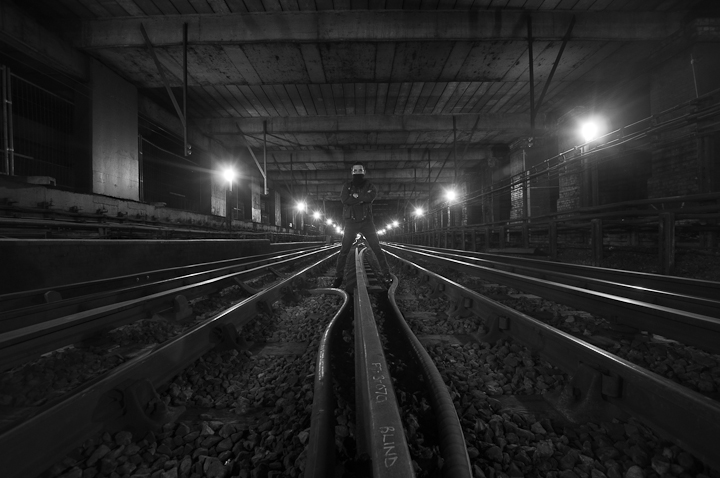 PS. You guys should try exploring everything, it's awesome!
Tags : British Transport Police, BTP, Civil Rights, flaws, hacking, Infiltration, Invoice, loopholes, Raid, security, TFL, Transport for London, Tube, Urban Exploration | 34 comments