…place is a crossroads, a particular point of intersection of forces coming from many directions and distances. -Rebecca Solnit
Most people, I would venture to guess, tend to think of home as a place of comfort and rest, peace and solace. The Inland Empire of Southern California in the 1990s, where I grew up, did not hold these qualities for me. Perhaps that's because home exhibits a certain plastic tendency that enables its boundaries to expand and shrink, which allows it to signify other geographical scales and although my family and friends were steadfast, I never saw SoCal, on a larger scale, as place I could call home. It was too pretentious, too materialistic, too filled with mischanneled testosterone. Riverside was a place in the midst of thriving, unsustainable gentrification on the road to inevitable economic collapse, a contested border zone caught between violent gang-fueled street warfare driven by teenagers like myself eager to claim identity in primaeval non-places and an increasingly Disneyfied social landscape which wasn't necessarily conducive to rootedness and largely rejected our aggressive attempts at placemaking.
When I turned sixteen and finally got a car (the hallmark of Southern California freedom), I absconded every chance I had. I usually ventured into the Mojave Desert, a landscape full of dry lake beds washed long ago to a surface as flat and inviting as a dance floor when dry. These are the places where the desert is most itself: stark, open, free, and invitation to wander, a laboratory of perception, scale, light, a place where loneliness has a luxurious flavor… The inhospitable Mojave Desert is, I think, primarily envisaged as a barrier to overcome between places, perhaps even the antithesis of home. For me, as for Rebecca Solnit and Harold Budd, two people I greatly admire, it was always more home than home was, a space I could always find room to carve a place for myself.
However, Marc Explo, Otter, Witek and I had now emerged from the desert, stopping for our successful infiltration of The Boneyard on our way to the City of Angels. There was only one road back to L.A. – U.S. Interstate 15. Just a flat-out high speed burn through Baker and Barstow and Berdoo. Then onto the Hollywood Freeway, and straight on into frantic oblivion. We rolled into the ghetto of Los Angeles late and failed to get into the Belmont Tunnel (it had been turned into a museum or apartments or an amusement park or something – it all looks the same) and then succeeded climbing on top of the Queen Mary before arriving at my parent's house to take our first shower in a long while.
We were looping around to my brother Pip's house in Canyon Lake. When we arrived, he pulled out tequila, maps and firearms and gave us three hot tips before taking us on a drunken ride in his pimped-out 4×4 golf cart and sending us on our merry way. Tip one was that in the mountains near Big Bear, he knew a series of radio towers we could climb to get proper David Lynch-esque skyline shots of the Inland Empire. Tip two was that there was a water park in nearby Redlands called Pharaoh's Lost Kingdom that was apparently abandoned. Both sounded like great opportunities for me to try and apply my placehacker skills acquired in Europe to home – making place ours by learning it from the inside out – just as Pip and I had done a year back at the March Air Reserve Base Hospital.
The radio tower did indeed turn out to be a wonder. As a bonus, when we pulled up to it, there was a herd of local kids gearing up to climb it as well. We shared our beer with them and climbed the tower together. Afterwards, they went back to their Ford F-350 and started blasting country music and I was unhappily reminded of our current geographic location on earth. I left satisfied regardless, having never seen the IE from that scale. After the successful climb we were pumped to sneak into the abandoned water park. Which didn't exactly go as planned.
When we arrived Pharaoh's Lost Kingdom, it was clear that the abandoned areas of the park had been quickly knocked down and the ground salted, all memory of that failure erased from history (go California!). What remained standing was very much active. However, it was two in the morning, we'd had a few beers up the tower and we were gearing up to head back into the desert, so we decided to run through the sprinklers and hop the fence anyway. Inside, we climbed the first waterslide where we could see the security guard off in the distance talking to a girl in a car. Easy. We climbed down the slides, which were surprisingly unslippery without water, and then grabbed some inner tubes off a big pile and floated around in the pools. Then we turned a corner and hit the jackpot – a snack booth with an open window. I slid through and found a fridge full of energy drinks, a nacho cheese dispenser and a Slurpee machine. Breakfast served. With a car full of fresh beverages, two new guns from Pip, and a few hot photos to tell the tale, we bailed from the Inland Empire again – I had hit my three-day tolerance threshold. Plus, Pip had a final mission for us – he suggested we hit some mines in the Calico Mountains on the way back to Vegas. So we found ourselves back in the Mojave again driving by torchlight into the hills somewhere near Yermo, California, set up camp and built a fire.
Inside the tunnels of an old mine where the extraction of silver from the earth had long ceased, we were soon 10 meters underneath the ground level, climbing deeper into the belly of the earth through long forgotten mine shafts. Outside is was blisteringly hot. Equipped with cameras, a multitude of light sources and an unquenchable thirst to find out what was left behind, we climbed as deep as we could go. The deepest levels of the mines eluded us on this trip but our time was running out and we were not yet done with Vegas. Like gill-breathers, we had to keep moving, stillness would surely mean death for us all in this heat. We popped off a few more rounds and smoked the tires onto I-15 again.
Although I was again a tourist here, passing through this surly desert, we were, as intended, beyond conventional tourism in our Powerslide delirium. But we were also beyond urban exploration. Was it even urban anymore? We were on an adventure pilgrimage, a quasi-spiritual journey, a failing search for a solitudiness, personal, semi-spiritual relation to place where we kept running into plastic and Wal-Mart super stores. Our romantic gaze reinforced the mythology of the desert in the most predictable ways, finding the only place where the Western Frontier still exists as some horrible shattered and lonely revenant, even as we worked to stake our promised claim to the freedom of the American West. It was toxically intoxicating and caused spontaneous moments of frustrated Tourette-like outbursts from the crew.
In my quest to remake home turf utilising a social template I was more comfortable with, all I really succeeded in doing was creating a Frankensteinien iteration that no one understood, just like every post on this site. Although home is posited as relational – the ever-changing outcome of the ongoing and mediated interaction between self, others and place, I am not sure we ever found home on this trip – we remained the urban nomads we have become. Though we did succeed, perhaps, in layering up my relationship with my past in new ways and I always enjoy the process of overcomplicating things that are supposed to be simple like nostalgia. To wit, if we consider home as a set of intersecting and variable ideas and feelings, which are related to context, and which construct places, extend across spaces and scales, and connects places, then maybe I can justify the ways I have always thought of that stretch of I-15 between Las Vegas and Los Angeles as an escape hatch, my personal pilgrimage trail of meditative space between two extreme forces of Western capital, violence and rampant resource consumption, the eye of the storm.
For some, the I-15 trail is a right of passage, the road trip that marks the 21 year old transition into adulthood (with the associated benefits of inebriated gambling). To others, the trail itself is the journey to seek. In either case, it's obvious that the myths of this place go deeper than the notion of  'a place between here and there'. We can explore the Mojave as a simultaneous destination and journey that speaks to different scales of home and to the fragile geopolitical climate of the now.
In terms of Riverside, well, I readily admit cowardice to my childhood associates. I ran from the Inland Empire and every time I go back, just like this trip, I fail to connect with it in a meaningful way and return to my crew in London. However, I can't help but think that if I return enough times, trying to carve out a place for myself in my home turf in whatever ways I am able, one day I might be able to return. In the meantime, we headed back to Vegas for one final blowout before Otter and Witek flew back to their respective countries. See you back on the strip.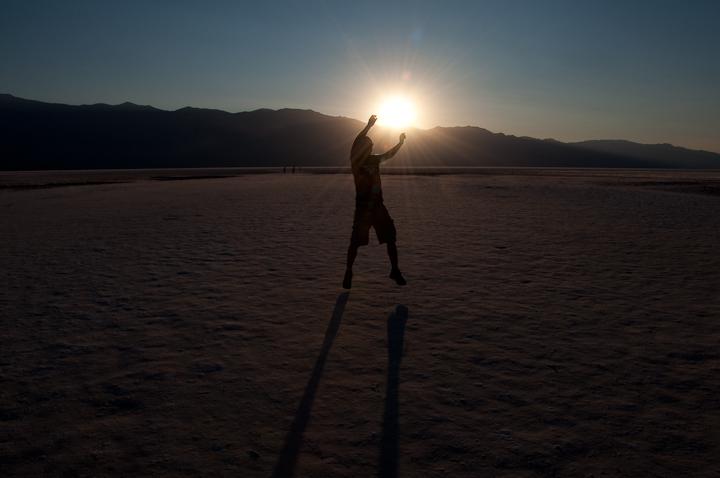 Explore what's left. Make what's not.
Tags : Barstow, Big Bear, Calico, California, Camping, climbing, Drama, Guns, Harold Budd, I-15, Inland Empire, Las Vegas, Marc Explo, Mines, Mojave, Otter, Pharaoh's, Place, Placemaking, Play, Queen Mary, Radio Towers, Rebecca Solnit, Riverside, Road Trip, Space, Travel, Witek | 3 comments