Posted by
Bradley L. Garrett
on
Tuesday Aug 30, 2011
Under
Archaeology
,
Arrivals
,
Breaking and Entering
,
Cranes
,
Departures
,
Drains
,
Freedom
,
Geography
,
Heritage
,
Infiltration
,
Infrastructure
,
Road Trips
,
Uncategorized
,
Urban Camping
,
Urban Exploration
,
USA
The voyeurism isn't just gawking at the old buildings; it's gawking at the possibility and the danger of death.
– Kyle Chayka
Detroit's reputation as a destination for encounters with epic industrial ruins, burned-out residential blocks, dead bodies frozen in ice and hard pipe-hitting thugs ready to elbow you in the face and abscond with your camera gear is internationally gelled in the urban exploration community. When Marc Explo and I started planning our trip to The D, we wanted all that action. But we were also interested in getting beyond stereotypical post-industrial tourism to see what Detroit could offer in terms of live infiltration. Surely, we figured, a city now saddled with a perpetual (and seemingly unshakable) image of crime and desolation wouldn't mind if we preferred to climb some of their hot new construction projects and wade around in their massive new storm drains. So Marc flew from London, I flew from Las Vegas and we met in the middle of the United States to begin the 2011 Midwest Powerslide.
The queasy feeling in my stomach while I was on the plane to The D told me we were on the right track. I hadn't seen Marc in 4 months, enraptured as I was by the ceaseless stream of verbiage and audio/visual fornications that were spilling out of my Vegas retreat, where I wrote the bulk of my PhD over the Spring. Truth be told, I was looking forward to seeing the bald Frenchman. As exploration partners, Marc and I seem to create something like a bilateral energy arc that spews sparks of tesla typhoons capable of disabling security cameras and shocking guards into limp-kneed awe. I couldn't wait to tear the city up with him again and neither of us had ever been to Detroit (minus my failed Canadian road trip nightmare last December which I've burned from my memory – a renewed middle finger to the Ontario Provincial Police by the way). After three weeks of scouting in Google Earth for drains, construction projects and derelict industrial areas, unabashedly pillaging leads from the best US explorer blogs and taking a few wild guesses that had the possibility of ending badly, the map we were working off of was so littered with pins for our 4 day trip we could barely see it anymore.
Our first stop was a no-brainer. Michigan Central Station is one of the largest and most beautiful ruins in North America, an icon of Detroit, even in death, much like Battersea Power Station in London. As Leary writes, Michigan Central Station appears to be a potent symbol of decline and the inevitable cycles of capitalist booms and busts. As a result there is a continual stream of tourists idling their rental cars in front to stare up at the monolith through the barbed wire fence. We sped past them in our red Dodge Charger, parked the car and unceremoniously squeezed through a kicked out piece of plywood under a railway in the back. Sneaking through a network of decaying corridors, we made our way to the main building and started climbing. Up top, we got our first taste of the Detroit skyline, only hours after landing. We were immediately impressed. Later, while we were running around playing on the roof, we were slightly shocked when three other explorers clamoured out of the stairwell and greeted us, two from Paris and one from Melbourne. Later, we tried to entice them to squeeze under a fence into the old school building across the street where they found a body of a homeless man frozen in the ice last Winter but they gave it a miss and we went on without them. George, if you read this, I hope you three had an amazing trip!
Lacking any plans for sleeping (of course!), we decided Michigan Central Station was as good a place as any to kip and rolled out our sleeping bags in the main hall. In the morning, we were greeted by two swaggering kids wielding tall cans of cheap beer and 2x4s who had clearly been drinking until 7am. One of them, stumbling and dragging his weapon as we sat up in quickly our sleeping bags and prepared to tackle him, said he was really sorry to tell us that we didn't look very homeless. We quickly gathered these kids were cool, just a bit hammered and scared – nevertheless we decided it was high time to pack up and start working on tracing our pins. So we bailed from central station and sped off into the suburbs.
I won't lie, Detroit was shocking. I have a hard time imagining such an economically depressed city existing in the United States. However, everywhere we went, the people of The D were candid and kind, even in what might be considered the worst neighbourhoods, waving at us as we drove down their street and laughing at us when we explained our mission to hobo our way through the American Midwest for the whole summer. Although I'll try to avoid celebrating the economic devastation the city has experienced, I have to say I felt the place was sizzling with creative energy that somewhere like Los Angeles could never dream of. Monstrous art projects, weird games, quirky cafes and spontaneous happenings were in abundance. At one point, we even randomly found a house covered in stuffed animals that I found out later was part of Tyree Guyton's Heidelberg Project. That kind of shit is weird and wonderful, the world needs more of it and, well, I just can't imagining it happening anywhere else in quite that way. I think that's also the reason why urban exploration has taken off so much in Detroit. Yes, ruins are everywhere, but the city also has a really raw "if you want it, go for it" attitude that I find refreshing. Artistic liberation always seems to flourish where capitalism takes a fatal dive.
We knocked out the sites on the outskirts of the city pretty rapidly, finding them satisfyingly sketchy and yet feeling increasingly guilty about our 'targets'. We knew we wanted to see the remains of Detroit's automotive empire, I mean, leaving the city without seeing it would have been a travesty, but every place we entered was either very clearly a crack den or homeless shelter, incredibly sombre, or filled with other people wielding cameras and spray cans. Everything was trashed. We took the pictures we wanted to get, saw the places we wanted to see, but I couldn't help feeling that I just was not that interested in ruins any more. It was clear to me, as it has been for the past few months, that exploration is all about the adrenaline rush for me now, the history of places is an afterthought. It's part of the inevitable fragmentation of being involved in this practice on a more-than-casual basis. Some of us become graffers, squatters or proper artists. Others settle down and quietly slip away. In any case, I don't think any of us with any common sense or critical thinking skills can abide the hunger for derelict places and photography for more than a few years, it's got to evolve into something.
However, later in the trip, we rolled into a suburb to relocate an abandoned church. Sneaking in through a back door ripped off the hinges, the place appeared to be trashed. My shoulders slumped until we walked up to the first floor and were greeted with this incredible sight. The Woodward Avenue Church brought the energy right back up.
We spent the night on top of an abandoned port building called Boblo overlooking the Ambassador Bridge to Canada. Earlier on in the day, in the middle of a pretty rough neighbourhood where we were trying to break into a Leer plant, I fell off a fence and sprained my hand, broke a rib and smacked my head pretty hard on the concrete. It was a stupid move that would haunt me for the next 5 weeks and damn near killed me sleeping on the rocky roof of Boblo Port that night.
On day three, Marc and I needed an adrenaline shot so we drove downtown and started scoping infiltration locations. One of the first places we had a look at was the Farwell Building and after a pint in the Detroit Beer Co. (we love you guys!). We decided to give it a crack in the middle of the day. The fire escape was a nightmare, some hellish rusty hunk of shit ripping itself out of the brick under it's own weight. We ran down the alley and scurried up it, having no idea whether it would hold and, if it did, whether we would run into a swarm of crackheads inside once we wiggled through the broken window on the third floor.
Instead of crackheads, we were rewarded with a surreal central hall that seemed right on the verge of structural collapse. Checking out the adjoining corridors, I felt a wind blowing through a boarded up door and ripped off the plywood to reveal another fire escape, this one leading to the roof. Up top, when it started pouring rain unexpectedly, I stripped of my clothes and danced in the rain (hey, it had been three days without a shower at this point!). Figuring no one was watching during the shower, a stepped onto the ledge of the roof and stared down at the street. As I did, I saw a woman with a stroller look straight at me as she popped her umbrella. Pointing, she yelled, "Oh my god, that little white boy's gonna jump!" Two minutes later we heard the sirens coming from every direction and scrambled down the building as the police blocked off the street, waiting for the jumper. As we were hanging off the fire escape, trying to get out of the building before they sent cops up to the roof, a police cruiser stopped at the end of the alley. Marc hissed "freeze!" and we hung, the rusty bolts of the fire escape slowly ripping out of the brick. I knew we were busted. And then, miraculously, the cruiser drove off. I still don't know whether we were seen and dismissed or whether the cops seriously missed us hanging off that fire escape, but as I stood minutes later with Detroit's finest staring up at the Farwell Building, waiting for my naked self to jump and listening to the cops laughing about "that twisted tweaker that called it in", I knew I loved Detroit.
As it turned out, Paul McCartney was playing downtown that night so we had free reign in the city while the cops spent their time directing middle class white people into the stadium and reassuring them there were no Muslims there. We went nuts. At 2am we climbed on top of an Italian restaurant and squeezed though an open window to ascend Broderick Tower, the best view we got of Detroit. It was stunning and really gave us a sense of Detroit as a light, bright, vibrant, beautiful place, in contrast to all the archetypal dereliction we had been seeing.
It occurred to me at this point, staring out over the city, that Detroit was in fact far from derelict and we had succeeded at breaking the mould. Ruination is, of course, a large component of the urban landscape now after years of corporate corruption, economic destitution and mass population exodus. However, the city remains full of life, events, cool people, great places to go out and a plethora of sites ripe for infiltration that are largely ignored by tight-jeaned camera-toting dereliction fetishists and local explorers unwilling to carve their own path.
Our final stop, in the suburbs on the way out of town, was a massive drain we found in Google Earth. Our friend Aurelie Curie kindly informed us it was called Red Run while we were en route. I loved Red Run and for reasons known only to himself, Marc despised it and refused to photograph it. Upon reflection, after 4 days in Detroit, sleeping in ruins and walking through endless derelict properties (16 in all) in our quest to find something else, we were both probably more than a little frustrated, despite the successes of the Farwell Building and Broderick Tower. Of course, we had also just knocked out 1 city with 5 more to go on the trip, so maybe Explo was just reserving his superpowers for the upcoming win in the Twin Cities. Stay tuned to find out.
Our trip to Detroit, for me, exceeded expectations. Of course, the most important aspect of place hacking is the exploration itself and no photograph can adequately identify the origins for Detroit's contemporary ruination; all it can represent is the spectacular wreckage left behind in the present. Dan Austin, editor of the architecture information site Buildings of Detroit notes that artists and photographers from all over the world have contacted him to act as their guide to Detroit's ruins, help for quick photo and art projects. He writes that these "parachuters" leave Detroit just as quickly as they arrived, contributing little but to the city's image of decay. We did what we could to give Detroit a chance to show it's true colours to us and eventually it did. It's not a place I could live but I certainly left with a different image of the place than when I arrived. Even though our time there was relatively short, we folded ourselves into the city, exploiting weak points in the urban armour to get into, and then under, the skin. I will always contend this is the best way to actually get to know a place.
The rest of what we found in Detroit, the other stories behind the photos, are of course ours to keep. Perhaps you could pry them out of us over a beer. But if you want to know what The D is about bad enough, like Marc and I did, you will start pinning that map and make your move. Godspeed explorers!
_____________________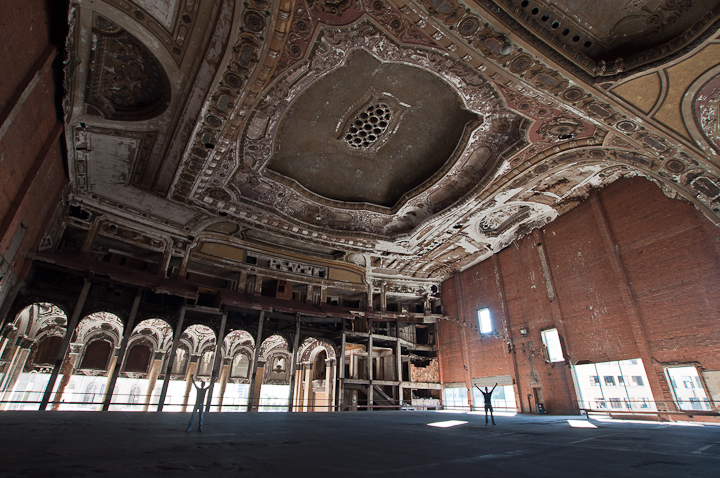 The art of living well and the art of dying well are one.
– Epicurus
Tags : 2011, America, Automotive, Boblo Port, Broderick Tower, Buildings, City Hacking, Derelict, Detriot, drains, Farwell Building, Fischer Body Plant, Heidelberg, Industrial, Infiltration, Marc Explo, Michigan Central Station, Michigan Theater, Midwest Powerslide, Packard Plant, Place Hacking, Red Run, Ruin Fetishism, Ruin Porn, Ruins, Skyscrapers, Tall Stuff, Urban Exploration, Woodward Avenue Church | 13 comments